First time
home buyers
Resources to educate first time home buyers
One of our specialties is making home ownership a reality for any first time home buyers out there. As part of that process we talk our customers through the home buying process every day. It's just what we do and how we do it.
There are many considerations to take into account, if you want to own your own home. We're mortgage specialists and happy to walk you through the process.

A mortgage pre approval answers the question, "I wonder how much I would qualify for right now?" A mortgage pre approval is the first step in the home buying process, thereby taking the stress out of shopping for your dream home because you'll have the confidence of knowing what you're able purchase.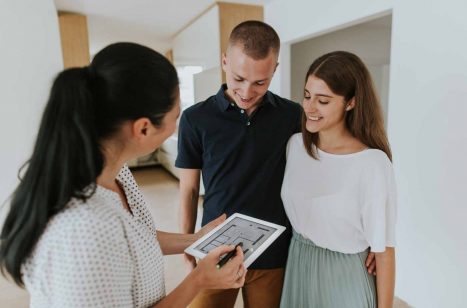 Why use a
mortgage broker?
When it comes time in your life to purchase a home it can often be a very exciting time, until of course you start dealing with realtors, lawyers, home sellers, banks, and anyone else trying to get your business. Even for second-time home buyers this can be a daunting prospect, let alone for first-time home buyers.
PLEASE 
SEND US

 A NOTE
We 
check our inbox

 all day long.

The best way to get your questions answered is to reach out to us by phone (403-509-2434) or if you're not up for a phone call then you can always send us a note via the contact form. Thank you.
Here's what some of our
first time home buyers

have to say
Bob and Ken were amazing. We're first time buyers and they guided us through the process and explained everything in detail. They listened to our concerns and were very open and honest. I would recommend anyone to their services!
We first dealt with Colleen and Canadian Mortgage Professionals when we became first time home buyers in 2013. It was a huge step but we felt comforted the entire way through the process. I was full of questions and they were answered in no time, in language that I understood.…
read more
Ken & Bob were amazing! They made me.feel at ease on a topic that is all very new to me. I completely trust their work & their understanding of what they do! I am glad I chose them to help me on this journey as a first time home buyer.
It was great talking with Bob. He was patient and explained the house buying process well to a first-time home buyer.
From the first meeting with the team, I knew we were in safe hands. Ken and Merima were knowledgeable and very experienced. They answered all my questions and guided me all the way till closure. Thanks for being so great that you can't be ignored. Excellent performance and highly recommended.
Canadian Mortgage Professionals were with us every step of the way. We were purchasing a home for the first time and didn't know how anything worked. They answered all our questions and explained everything in detail, no matter how many questions we had. They were available whenever we needed to…
read more
Great Mortgage Company, very easy to work with as well as very professional. We were originally going to go with RBC for our first time mortgage, after the interest rates raised a couple points we decided to call Canadian Mortgage Professionals, who were highly recommended. We were able to get…
read more
My husband and I recently worked with Bob and Ken when purchasing our first home and we couldn't have asked for a better experience. Bob was very patient with us as he taught us about the mortgage industry and he provided us with some valuable insight about what type of…
read more
Bob and his team have made the purchase of our first home a whole lot less stressful and even a bit fun! We will highly recommend them to anyone looking at purchasing a home. Down to earth, professional, thorough, and efficient. Look no further.
I recently purchased my first home and Ken and the Canadian Mortgage Professionals team came highly recommended from a close friend. All my questions and worries were very quickly answered and Ken has been great at accommodating my busy work schedule. The whole process was very professional and I would…
read more
Bob and Merima made this complicated process as easy as possible. Buying a house can be quite stressful with mounds of paperwork  but we are very happy to have Bob's team on our corner simplifying everything. I highly recommend them as your mortgage broker.
The entire team was really excellent. They were thorough in their work and explaining it to me. As a first time home buyer methodically going through the paperwork with someone was really important and reassuring to me. And they found me an unbelievable rate!
I had the privilege of working with Jackie and Bob for my mortgage. It was my first time purchasing a home and I did not know the process or what to expect. They both made it extremely easy and it was a very comfortable process. Jackie went above and beyond…
read more
I found this broker using google search, we used this broker because of the location convenience and the fact it has great reviews. We dealt with Bob and Jackie through the entire process. They educated us on every aspect of home ownership, what to watch out for, what was reasonable…
read more
I had the pleasure of working with Colleen on my recent home purchase. As a first time home buyer I was very intimidated by the whole home purchasing process. I'd been looking off and on for two or three years, which lead Colleen to have to do several pre approvals…
read more
We had the pleasure of working with Ken Mercer over the last year while buying our first home. Ken was nothing but patient with us through the whole process and went out of his way to make our experience a great one. He always got back to us very quickly…
read more
I chose to deal with Bob & Ken when purchasing my first home after meeting with a few different mortgage brokerages. They were awesome to deal with and did a great job leading me through the process. The transaction was months ago, and I am still very happy with the…
read more
Helping
First Time Home Buyers
When making the life-changing decision to purchase a home, the last thing you want is to be overwhelmed with paperwork and unanswered questions. By using our services, you can turn this stressful process into an enjoyable, informative experience that could save you thousands of dollars over the life of your mortgage.